Indonesian National Police Ready to Secure the 2024 Simultaneous Elections
Head of Police Public Relations Division Inspector General Pol. Sandi Nugroho said that the National Police were ready to secure the stages up to the implementation of the simultaneous elections for both the 2024 Presidential and Regional Head Elections.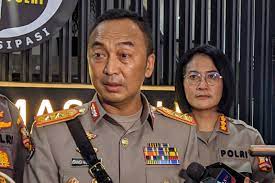 "We Polri are ready to secure the implementation and stages of the 2024 simultaneous elections," Sandiaga told reporters in Jakarta, Friday. This was conveyed by Sandi in response to the proposed postponement of the 2024 Pilkada by Bawaslu.
The two-star general emphasized that the National Police carried out security for the General Election stages simultaneously by holding a police operation called Operation Mantap Brata.
The operation, he said, was carried out at all levels of the National Police, starting from the level of the National Police Headquarters to the level of the Polres and their staff.
"Later on, the National Police will carry out Operation Mantap Brata from the Headquarters level to the Polres and ranks," Sandi said.
Apart from that, continued Sandi, the National Police will also synergize and cooperate with the regional government, the TNI and other relevant stakeholders in securing elections.
The National Police also makes a detailed and comprehensive security plan, both in terms of security pattern, number of personnel, budget support, and even how to act if there is a potential for disruption.
"All efforts are made so that all stages of the election can run safely and smoothly," Sandi said.
Previously, on Thursday (14/7), the Indonesian Election Supervisory Body (Bawaslu) proposed that the Government and election organizers, such as the Indonesian General Election Commission (KPU) discuss options for postponing the implementation of the 2024 Simultaneous Regional Elections.
According to the Chairman of the Indonesian Bawaslu Rahmat Bagja, as quoted from the RI Bawaslu's official website in Jakarta, Thursday, the option of postponing the 2024 Pilkada Simultaneous should be discussed because its implementation overlaps with the 2024 Election and there is also the potential for disruption to security and order.
"We are worried that the 2024 Election (Pilkada) will actually be due to the November 2024 vote, which in October 2024 will only be inaugurated for a new president, of course with ministers and officials who may change. Therefore, we propose that we should discuss the option of postponing the election (pilkada) because this the first time simultaneously," said Bagja #IrjenPolSandiNugroho #Pemilu2024 #KadivHumasPolri @ShandiNugroho95
The post Indonesian National Police Ready to Secure the 2024 Simultaneous Elections appeared first on Sapulidi.
from Sapulidi https://ift.tt/RdTDm4J
via IFTTT